Share

Thursday 03rd May 2018
SINK + Q&A
Free
(No ticket required - First come first served)
7:30PM
NXDFF is delighted to present this pre-release screening of locally shot film, SINK, followed by a Q&A with writer/director Mark Gillis.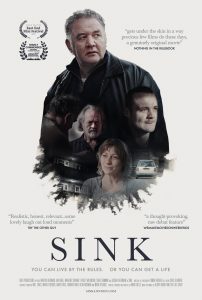 "It draws you in…this wonderful new film, SINK"  Mark Rylance
Micky Mason is a skilled manual worker who can now find nothing but menial, zero hours jobs. He takes a course of action that is completely out of character in the hope of keeping his family together.
We're left with a moral dilemma; in a world where the moral compass has shifted so far, so fast, who's to say what's right or wrong?
SINK is about surviving the tough times.  But it's not all anguish and despair. It's also warm and tender.  And funny.
Shot in New Cross, Deptford and Brockley, the film has generated a great deal of interest after Mark Rylance saw the finished cut and became an Associate Producer.
 "Gets under the skin in a way few films do these days. A genuinely original movie."   Nothing in the Rulebook
"Realistic, honest, relevant…some lovely laugh out loud moments"      Try the Other Guy
"A thought provoking, raw debut feature"      We Make Movies at Weekends
"A deeply prescient film in these politically charged times, Sink surfs its kitchen sink realism with humour and style and marks an important debut by writer/director Mark Gillis."       East End Film Festival