Share

Saturday 27th April 2019
Silent Running
Free
(No ticket required - First come first served)
7:30PM
INDOOR:
Sanford Housing Co-op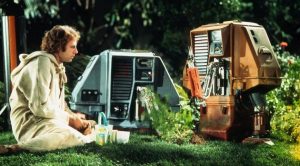 After the end of all botanical life on Earth, ecologist Freeman Lowell (Bruce Dern) maintains a greenhouse on a space station in order to preserve various plants for future generations.
Assisted by three robots and a small human crew, Lowell rebels when he is ordered to destroy the greenhouse in favour of carrying cargo, a decision that puts him at odds with everyone but his mechanical companions. Lowell and his robots are forced to do anything necessary to keep their invaluable greenery alive.
Douglas Trumbull's directorial debut followed his visual effects work for 2001: A Space Odyssey and preceded his stunning contributions to Close Encounters of a Third Kind and Bladerunner.