Share

Sunday 09th September 2018
Silent Running
Free
(No ticket required - First come first served)
8:00PM (Doors open 7.30pm)
OUTDOOR:
Glengall Wharf Garden
Bring something to sit on and whatever you need to stay warm and dry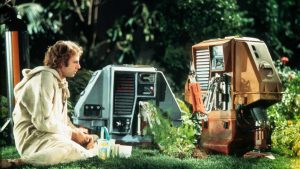 Ecological drama Silent Running is screening in the beautiful setting of Glengall Wharf Garden at 8pm on Sunday 9th September.
In a future where all flora is extinct on Earth, an astronaut is given orders to destroy the last of Earth's botany, kept in a greenhouse aboard a spacecraft.
 This is an outdoor event so bring warm waterproof clothes. Free event. No booking needed. Arrive early to secure a seat.
ABOUT THE VENUE:
Glengall Wharf Garden is the home of Burgess Park Food Project, run by a group of local people keen to get growing sustainably in this part of north Peckham. Recent winner of a Green Flag Community Award.