Share

Friday 02nd September 2016
Silent Comedy Classics
Free
(No ticket required - First come first served)
8:00PM (Doors open 7.30pm)
OUTDOOR:
Cafe on the Rye, Peckham Rye Common
Bring something to sit on and whatever you need to stay warm and dry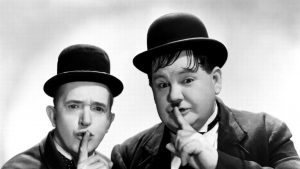 Join us for another year of silent comedy short films on Peckham Rye Common, with the SUPERB Neil Brand playing a live piano accompaniment to well and truly bring the films to life!
Showing: You're Darn Tootin, Mighty Like a Moose & That Finishing Touch
In You're Darn Tootin, Laurel and Hardy are hapless musicians whose attempts at busking lead to the biggest trouser-tearing fight in slapstick history. In Mighty Like a Moost, Charley Chase doesn't recognise his own wife and ends up fighting himself, prefiguring Monty Python by 60 years. Finally, in That Finishing Touch, Laurel and Hardy are hired to build a man's house for him – big mistake!
These three superbly funny silent shorts are all introduced and accompanied on the piano by Neil Brand