Share

Tuesday 06th September 2016
She Makes Comics
Free
(No ticket required - First come first served)
7:00PM (Doors open 6.30pm)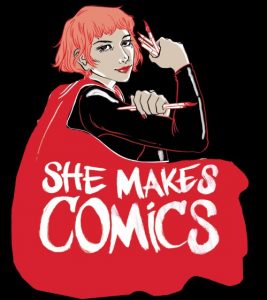 Join us as we delve into the inner workings of the comic book industry and how women are shaping the medium at Peckham Library, 122 Peckham Hill Street, SE15 5JR on Tuesday 6th September, 7pm with a screening of the innovative documentary She Makes Comics and an in-depth Q&A with comic book creator, Julia Scheele.
Long before Scarlet Witch, Batgirl or even Wonder Woman, women were shaping the comics business. She Makes Comics is a feature-length documentary that traces the enduring impact women have had on the industry. Women have been a guiding force in the modern comics industry since at least the early 20th century. The film goes behind the scenes and features interviews with dozens of influential industry figures, and also touches on popular characters in comics as well as the burgeoning cosplay movement.
The evening will kick off with a 1 hour Q&A session with Julia Scheele, a prominent and respected part of the UK comic scene. As an illustrator and Graphic scribe, Julia's work has featured in The Guardian, VICE UK and Dazed Digital, while her comic work has been published in various anthologies. She is currently working on the comic series, Metroland.
Free event. No booking needed. Arrive early to secure a seat.
About The Venue:
A striking building best imagined as an inverted capital 'L', Peckham Library is symbolically situated in the heart of Peckham. Designed by Aslop and Störmer, the library and community building won the Stirling prize for architecture in 2000.