Share

Thursday 02nd May 2019
Save Reginald Save Tidemill
Free
(No ticket required - First come first served)
7:30PM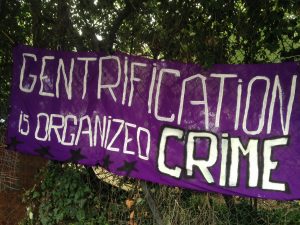 Please join Save Reginald Save Tidemill campaign.
On  the green next to the now demolished beautiful Tidemill garden for an outdoor pedalled powered screening of short films and clips made about the campaign over the past year.
The films tell the story of what happened from May 2018 onwards – Including the 29 October 2018 when  Lewisham council spent over £100,000 evicting peaceful protesters  from the garden.
Save Reginald Save Tidemill is a campaign to Save Tidemill community garden (demolished 27 February, 2019) and Reginald House – 16 structurally sound council homes threatened with demolition.
Introduction and Q &A followed by screenings.
With thanks to electric pedals.