Share

Wednesday 27th April 2016
Rosencrantz & Guildenstern are Dead
Free
(No ticket required - First come first served)
6:00PM
Two minor characters from the play, "Hamlet" stumble around unaware of their scripted lives and unable to deviate from them.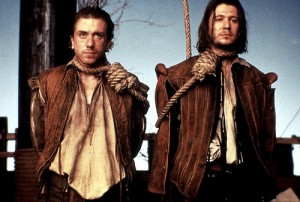 Will Rosencrantz and Guildenstern  manage to discover the source of Hamlet's malaise as requested by the new king? Will the mysterious players who are strolling around the castle reveal the secrets they evidently know? And whose serve is it?
Oldman and Roth play off each other like a couple of spry young athletes, rapidly batting Stoppard's dialogue back-and-forth.  This film's a reminder of why Oldman and Roth were such a big deal in 1990, and why they still play even their supporting parts as though they're the stars of the show.

To mark the 400th anniversary of William Shakespeare's death we are screening several bard-related films. Look out for this symbol on our event pages.