Share

Wednesday 27th April 2016
Romeo + Juliet
Free
(No ticket required - First come first served)
7:00PM
INDOOR:
Somerville Adventure Playground
Two teenagers, meet at a party, fall in love and decide to get married. But will it be a happy ending?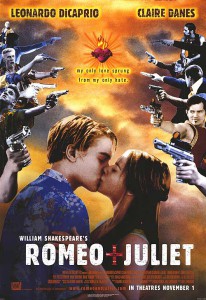 Shakespeare for the MTV generation with the fast and furious Romeo + Juliet from Baz Luhrmann. Transforming the Montagues and Capulets into contemporary LA gangs, wielding guns instead of daggers with the pace and style of a music video and pure Shakespearean dialogue.
Come to the first screening in our brand new building at the Somerville Adventure Playground. Built with hard work from our local community and Lottery funding. See the film and explore the building – an oasis for children and young people at the heart of New Cross for over 40 years.
Refreshments and popcorn on sale

To mark the 400th anniversary of William Shakespeare's death we are screening several bard-related films. Look out for this symbol on our event pages.