Share

Thursday 07th July 2016
Romeo + Juliet
Free
(No ticket required - First come first served)
8:00PM (Doors open 7.30pm)
INDOOR:
St. Margaret The Queen Church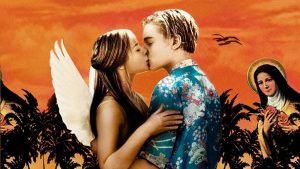 Free but donations on the door welcomed to help the free film festival in September happen.
Celebrate 400 years of Shakespeare at this special screening of Baz Luhrmann's dazzling and unconventional adaptation of his classic love story. It's a spellbinding production with Leonardo DiCaprio and Claire Danes in the lead roles. In the beautiful surrounds of St. Margaret The Queen church.
The classic story of Romeo and Juliet, set in a modern-day city of Verona Beach. The Montagues and Capulets are two feuding families, whose children meet and fall in love. They have to hide their love from the world because they know that their parents will not allow them to be together. There are obstacles on the way, like Juliet's cousin, Tybalt, and Romeo's friend Mercutio, and many fights. But although it is set in modern times, it is still the same timeless story of the "star crossed lovers".
This is a fundraising event in aid of Streatham Free Film Festival to ensure a full week of free screenings 17-24th September. Hawaiian shirts and angel wing outfits welcomed.
Bar and refreshments available but you can also bring a pic nic. There are several cushions for pews but everyone welcome to bring their own.