Share

Monday 12th December 2016
Religulous
Free
(No ticket required - First come first served)
8:00PM
INDOOR:
Prince Regent Pub
See Jesus crucified. Hear from a holocaust denying rabbi. Visit a roadside Trucker's chapel in the US. All in little more than 90 minutes! Come and see Bill Maher's documentary Religulous at The Prince Regent on Monday 12th December at 20:00 for a break from all the festive cheer. Bah humbug indeed!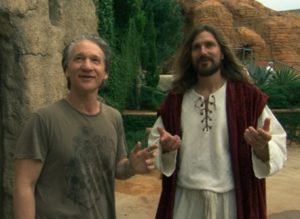 In a documentary exploring the often wonderfully weird world of religion, Bill Maher travels from the US (and specifically a roadside Trucker's Chapel, a Creationist Museum and the Holy Land theme park in Florida) to Jerusalem via the UK, Amsterdam and the Vatican to interview some of world religions' strangest adherents.
It may not be the most balanced film you'll see in 2016 but hey, it's Christmas, it'll provide some balance to the film festival's schedule and we guarantee it'll make you laugh. And at the very least how often do you get to hear from a Holocaust denying rabbi, see Jesus crucified, listen to a sceptical Vatican priest and learn that humans and dinosaurs lived together at the same time 5,000 years ago all in a little more than 90 minutes.
The Kansas City Star (indeed, THE Kansas City Star) observed that "the film is one-sided, less a measured argument than a bunch of rants and barbed observations. But it's also very funny, which trumps everything else." We like funny in Herne Hill. We hope you do too.