Share

Tuesday 04th April 2017
Reality Bites
Free
(No ticket required - First come first served)
8:00PM
INDOOR:
Grand Union – Camberwell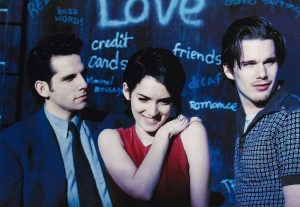 Winona Ryder stars as Leliana, a recent college graduate living independently of her supportive out-of-touch parents.
Leliana faces the realities of careers and relationships. She can't stand her internship under a local television personality (John Mahoney) and she's forced to choose between Michael (Ben Stiller), a well-intentioned music video network executive, and Troy (Ethan Hawke), a bruding sensitive slacker. Meanwhile she must also protect the artistic integrity of Reality Bites, a video documentary that depicts the everyday life of her friends.