Share

Wednesday 07th December 2016
Rare Exports
Free
(No ticket required - First come first served)
8:00PM
INDOOR:
Off the Cuff Bar – Herne Hill
Something buried deep inside Koryatunturi in Lapland has been awakened, and reindeer have started to die. Come to OTC on 7th December at 20:00 to find out why the snow is red with blood in Finland and why you might look twice at Santa Claus next time you go past a window display on Oxford Street, and start running.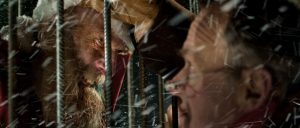 If any nation should be able to paint an accurate picture of Santa Claus, it's Finland, as we all know Santa is from Lapland (ignoring the minor but one could argue relevant fact that the story of St Nicholas actually stems from a 4th Century Christian saint and Greek Bishop of Myra).
Anyway. Far away in Lapland an American research team is examining drilling specimens on top of a fell, Korvatunturi. The evidence is clear, it is an ancient burial mound with something hidden inside.
The day before Christmas Eve the glacier by Korvatunturi has been coloured red with blood and in the snow lie the remains of hundreds of reindeer, gnawed to the bone. A local reindeer slaughterer, Rauno, examines the carcasses worriedly and, returning to his farm, he digs a trap to protect his remaining reindeer in case of wolves. On the morning of Christmas Eve the trap has worked, but there is no wolf inside…
Come to OTC on Wednesday 7th December at 20:00 to see what Rauno caught. We don't want to ruin the surprise but this film may not be about the same Santa you met that one time in the Whitgift Centre.
Here's the trailer if you want to have a sneak peek…