Share

Friday 28th April 2017
Racing Extinction
Free
(No ticket required - First come first served)
6:30PM
INDOOR:
Sanford Housing Co-op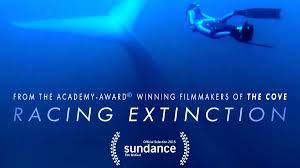 Scientists predict we may lose half the species on the planet by the end of the century.
They believe we have entered the sixth major extinction event in Earth's history. Number five took out the dinosaurs. This era is called the Anthropocene, or 'Age of Man', because the evidence shows that humanity has sparked this catastrophic loss. We are the only ones who can stop it as well.
An unlikely team of activists is out to expose the two worlds endangering species across the globe. The first threat to the wild comes from the international trade of wildlife. Bogus markets are being created at the expense of creatures who have survived on this planet for millions of years. The other threat is all around us, hiding in plain sight. There's a hidden world that the oil and gas companies don't want the rest of us to see.