Share

Saturday 12th May 2018
Queen of Katwe
Free
(No ticket required - First come first served)
8:00PM (Doors open 7:30PM)
INDOOR:
Effra Early Years Centre
Our Girls' Voices Day (which kicks off at 2pm with our documentary workshop for girls) culminates in this inspiring true story of a 10-year-old girl from the slums of Uganda who becomes a chess champion. Based on the book of the same name by Tim Crothers, Queen of Katwe charts the life of illiterate Phiona, who survives by scavenging and helping her mother sell vegetables in the market.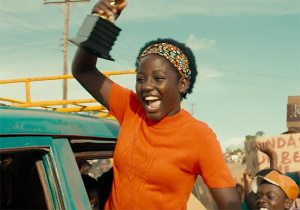 Her world changes one day when missionary Robert Katende returns to the slums where he grew up and sets up a soccer and chess club. If you think chess sounds dull, think again. This story will have you as gripped as any sports drama, as shy Phiona finds she has an uncommon talent for turning pawns into Queens.
Director Mira Nair (Salaam Bombay, Monsoon Wedding), who has lived in Kampala for over 25 years, combines her documentarian's eye for authenticity with a sweeping cinematic vision, dropping us into the heart of the slums amidst an ensemble cast of largely non-professional local actors, alongside then unknown Madina Nalwanga as Phiona Mutesi.
Ok, Disney have sprinkled a little fairydust and given us a slightly sugar-coated version of slum life, full of rich colours and flashing smiles. Nevertheless, Nair hasn't shied away from showing the hardship and violence that slum kids face daily.
Her hallmark is in bringing out the courage and heartbreaking poignancy of her characters, and you'll soon be weeping and whooping for Phiona. Especially when she competes against the posh kids at a snooty private school.
In the words of Nair, this is "a radical film for Disney in many ways. … It has beauty and barbarity side-by-side."
Click here to see the trailer!
As part of this year's Herne Hill Free Film Festival we are excited to be partnering with the Norwood and Brixton Food Bank, helping to raise awareness for this most worthy of local causes. We will be collecting food donations and spare change at each of our screenings so, if you can, any food or money that you can spare would be greatly appreciated to help this wonderful charity continue the admirable work they do in the local area. We will be tweeting information about urgently needed items so stay tuned on Twitter to @HerneHillFilm.