Share

Thursday 15th September 2022
PREMIERE: Blasianing (Second showing)
Tickets are required for this event - see below
9:00PM
INDOOR:
Prince of Peckham
This is two of two viewings of the premiere of Blasianing, an original series developed and written by Eve Cong & Shona Delvaille. The show chronicles the life and tribulations of two Peckham residents navigating through day-to-day life, trying to make it as actors whilst working with children; oh! Shona has a couple of dogs who get involved in the mishaps and successes too. This viewing requires tickets. which are free and can be booked via eventbrite below:
[the art of being Black and Asian whilst doing the most but saying less]
Please arrive promptly at 9pm to taste our Signature cocktails for the event, there will be a non-alcoholic version. We also have a couple of surprises and a Q+A for those keen to understand the inspiration and everything that has gone into bringing this project to life!
We're also front cover in the Aug/Sep 2022 of The Peckham Peculiar, so make sure to check us out.
Follow us on instagram @blasianingofficial 
Venue: Prince of Peckham 9:00pm
We apologise in advance that there is no disabled access at this venue due to the function room which is upstairs being used.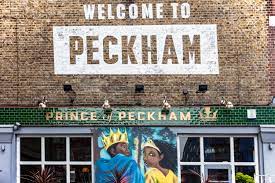 Prince of Peckham was opened in May 2017.
Clement Ogbonnaya, the owner, grew up in Peckham and wanted to create a community venue in his hometown, where everyone is welcome, regardless of race, gender, sexual orientation, or religion. Prince of Peckham is a reflection of the solution to gentrification.