Share

Sunday 02nd September 2018
Peter and The Wolf
Free
(No ticket required - First come first served)
11:45AM
INDOOR:
Beckenham Place Park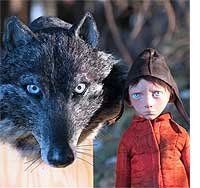 This Oscar-winning animated version of Sergei Prokofiev's Peter and the Wolf has all the ingredients of the timeless folk tale.  There's the vast snowy field where Peter mustn't stray, the little Russian shack that he calls home, and of course, the hairy, big bad wolf.  British animator Suzie Templeton has brought her version alive with some memorable additions: a bad tempered fleabag of a cat and an affectionate pet duck are Peter's comrades at home, while the streets beyond his front door are full of grown-up terrors.
A stop-motion animation with depth, substance, and beauty.