Share

Sunday 23rd August 2020
Peckham & Nunhead Free Film Festival | DIY film posters: Draw it Yourself
Tickets are required for this event - see below
3:00PM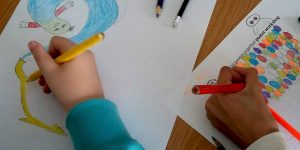 It's the Peckham and Nunhead Free Film Festival's 11th Year and we are going online!
The Festival will run from 3-13 September 2020
This is a FREE Drawing Workshop but please register for the event via Eventbrite: https://www.eventbrite.co.uk/e/116892621979
Join @drawing.people.together making DIY film posters on Sunday 23 August to celebrate our local Peckham and Nunhead Free Film Festival.
Draw your favourite film poster or make up a film you wished existed – you decide, it's your poster!
3-4pm on Zoom
All ages and abilities are very welcome, but children must be accompanied by an adult.
Follow and tag us with your drawings @_pnfff or email your drawings to pnfffestival@gmail.com
You will need pens, pencils or collage materials (glue, scissors and paper). A poster template can be found HERE  or pick up a copy from our pick up points outside both the PeckhamPlex and The Green Community Centre, Nunhead between 11am-12 noon on Saturday 22 August. Free (COVID safe) drawing materials will also be available (until they run out).