Share

Tuesday 05th September 2017
Paragraph 175 + Intro by Kate Hodkinson
Free
(No ticket required - First come first served)
7:15PM (Doors open 6.45PM)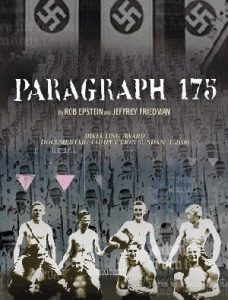 Historian, Klaus Müller, interviews survivors of Paragraph 175, the sodomy provision of the German Penal Code of 1871 which made homosexuality a crime.
Between 1933 and 1945, 100,000 were arrested under Paragraph 175. Some were imprisoned, others were sent to concentration camps. Only about 4,000 survived.
In 2000, fewer than ten were known to be living. Five come forward in the documentary to tell their stories for the first time, considered to be among the last untold stories of the Third Reich.
The screening will be in Pod 2 in Peckham Library.
VENUE CAPACITY: 30