Share

Friday 08th September 2017
Night of the Living Dead
Free
(No ticket required - First come first served)
8:00PM (Doors open 7.30PM)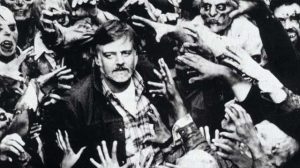 **VENUE CAPACITY: 40. SEATS WILL BE FIRST COME, FIRST SERVED, SO ARRIVE EARLY TO AVOID DISAPPOINTMENT**
The world sadly got a lot less scary this summer with the sad death of legendary and influential film director, George A. Romero, a favourite of Free Film Festivals and the "Father of Zombie film".
We'll be barricading ourselves in at Safehouse 1, 139 Copeland Road, London SE15 3SN on Friday 8th September, 8pm to remember him with a screening of his best known film, the 1968 masterpiece, Night of the Living Dead.
Courtesy of Maverick Projects, the unique setting in this old derelict house will perfectly add to the experience of watching this classic horror which set the template for the zombie film, with explicit gore and a sly political undercurrent. Make sure you get reanimated and shuffle along… they're coming to get you… even if your name is not Barbara!
Free event. No booking needed.
ABOUT THE VENUE:
Maverick Projects is an arts organisation in Peckham that offers unique locations for art exhibitions, theatre, events, filming and photography shoots.