Share

Friday 29th April 2022
My Own Private Idaho
Free
(No ticket required - First come first served)
7:00PM
My Own Private Idaho is an independent film written and directed by Gus Van Sant, loosely based on Shakespeare's 'Henry IV'.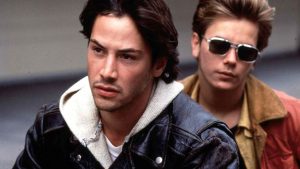 The story revolves around two Seattle street hustlers, Mike Waters and Scott Favor, played by River Phoenix and Keanu Reeves respectively. Mike
(Phoenix) is a sensitive, gay narcoleptic who dreams of his long-lost mother during his frequent unplanned naps, while Scott (Reeves) a runaway rich kid, and son of the mayor of Portland.
Together, the two friends embark on a journey to find Mike's mother, and along the way come to understand each other and their place in the world.
Van Sant had difficulty getting Hollywood financing, and at one point considered making the film on a budget with a cast of actual street kids, but once he had sent his script to Reeves, and Reeves showed it to Phoenix, both agreed to star in the film.
My Own Private Idaho is considered a landmark film in New Queer Cinema, an early 1990s movement in queer-themed independent filmmaking. Since its release in 1991, it has grown in popularity and been deemed a cult classic, especially among LGBTQ+ audiences. The film is notable for what was then a taboo subject matter, and its avant-garde style.