Share

Sunday 02nd September 2018
My Life As a Courgette
Free
(No ticket required - First come first served)
1:30PM
INDOOR:
Beckenham Place Park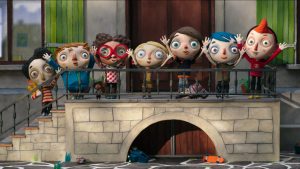 Our first family feature is the wonderfully affecting French-Swiss stop-motion masterpiece 'My Life as a Courgette'. Described by one reviewer as a 'little miracle of gentleness and tenderness' the film is a moving exploration of the thoughts and feelings a young person might have when going through a difficult period.
A charming French animation about a 9-year-old boy called Courgette who is sent to live in a children's home following the death of his mother.  The bright, colourful animation and affecting story make this a perceptive and uplifting film about friendship and child welfare.  Please note that this film is PG rated for parental guidance and has some laugh out loud discussions of sex. We rate this film as engaging for children aged 10+. You can read a film review here.