Share

Sunday 21st May 2017
Murderball
Free
(No ticket required - First come first served)
8:00PM (Doors open 7:15PM)
Despite being centred on the sport of Wheelchair Basketball, Murderball isn't really a sports film. It is however one of those rare documentaries where life provides a better ending than the filmmakers could have hoped for, and a film that uses sport to see into the lives, hopes and fears of athletes who were once young men waking up in hospital beds and being told they would never walk again. Come along to Fison Fitness on 21 May at 8pm to see one of our favourite films of the 2000s and the film we're all excited to have in our 2017 programme!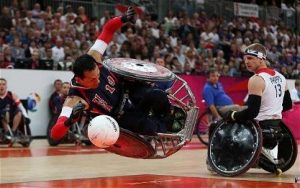 How do you eat your pizza with your elbows? It's a natural question for a little boy to ask a quadruple amputee, and Bob Lujano is happy to answer it. In fact he and the other stars of Murderball wish more people would ask more questions, instead of becoming inhibited around people in wheelchairs.
Murderball charts the progress of (and the rivalry between) the US and Canadian quad rugby teams in the lead up to the 2004 Paralympic Games in Athens. Young men, most with spinal injuries, play this rough and tumble sport in special chairs, and as the film gets to know them and their families they talk frankly about their injuries, feelings in public, sex lives, competitiveness, and love of the game.
We've not been able to forget this film since we first saw it back in 2005 which is why we hope you can make it down to Fison Fitness on 21 May at 8pm for this Sundance winner and Oscar nominee. It might sound like a cliché but remember, although we may not all be in chairs and we might not all be athletes, we do all have disabilities.