Share

Friday 04th May 2018
Moonstruck + Disco
Free
(No ticket required - First come first served)
8:00PM
When the moon hits your eye like a big pizza pie, that's amore.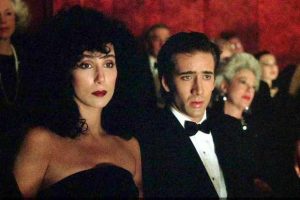 In New York's Little Italy, a woman falls in love with her fiancé's brother. Cher won an Oscar for her role in this 1987 film, and showed the world that she was an actress as well as a singer. She plays the widow who's about to remarry a local baker (Danny Aiello) but is swept off her feet by his younger brother (Nicolas Cage).
Screenwriter John Patrick Shanley's sharp script won an Oscar, providing the cast and director Norman Jewison with all the ingredients they needed to concoct a rich and sweet romantic comedy.
Doors open 7.30. Film starts 8pm. Disco until 12am
After the film, it'll be time to dance until the early hours.  Your hosts We Do Good Film will be spinning top 80's pop and ballads. Dress up for the Cher (or Nic) lookalike competition and you could win a prize!