Share

Saturday 13th May 2017
Moonlight
Free
(No ticket required - First come first served)
9:00PM (Doors open 7:30PM)
OUTDOOR:
Effra Early Years Centre
Bring something to sit on and whatever you need to stay warm and dry
To try and sell Moonlight to you as the winner of the 2017 Best Picture Oscar would be true, but it also wouldn't give the film, its writers, its director, its cast, its cinematographers, and so on, the credit they deserve. This one knocked us for six. Straight out the ballpark. So much so that we don't even know what we're doing with our metaphors. It's a challenging and moving story brilliantly translated into our favourite film of the year. And we can't quite believe how lucky we are to have the chance to show it on 13 May at 9pm at the unbelievably appropriate Effra Early Years Centre. We're expecting this to be a popular screening so make sure you get there early to grab a spot!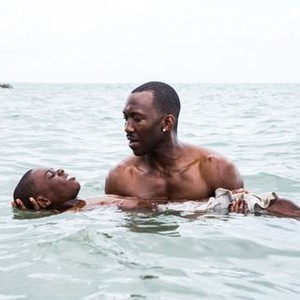 Chiron is a reticent child, different from the other kids at school. There's something about the way he walks, the way he talks, that has others guessing before he does, in an environment where queerness is just not an option. His mother is no help in navigating these waters, so Chiron turns to local drug kingpin Juan, who offers the kind of leadership and emotional support that he so sorely needs.
Based on the play In Moonlight Black Boys Look Blue by Tarell Alvin McCraney and journeying across three time periods, we witness key moments in the formation of Chiron's masculinity and how in turn, these moments come to define his sexuality. Barry Jenkins' debut feature Medicine For Melancholy earned him many fans, and Moonlight makes good on that film's promise, delivering a restrained yet intoxicating story with genuine emotional power. It's consistently surprising and brims with formal invention, from camera movement to the richly evocative imagery.
A combination of our favourite film of the year and a ridiculously fitting venue (a new location for the 2017 festival!) makes Moonlight at Effra Early Years Centre one of the highlights of our 2017 programme. When we heard we'd managed to secure an early licence we almost couldn't believe it but we've calmed down now and can assure you it is happening. So come on down, bring something to sit on and take it in. If you haven't seen it yet, now's your chance. If you have, it's even better the second time around.
Click here to see the trailer.