Share

Sunday 09th April 2017
Moonlight [15] **NOW SCREENING INDOORS**
Free
(No ticket required - First come first served)
8:30PM (Doors open 3:00pm)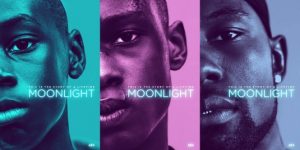 Moonlight charts the life of a black gay youth named Chiron as he grows up in a rough neighborhood in Miami. In the first segment, Chiron is a ten-year-old nicknamed "Little" (Alex Hibbert) who is taken in by a kindhearted Cuban drug dealer (Mahershala Ali) and his girlfriend (Janelle Monáe). In the middle installment, a teenage Chiron (Ashton Sanders) explores his sexuality as he falls in love with a close friend. The final chapter follows Chiron in his twenties (Trevante Rhodes) as he reconnects with faces from his past.
Controversial winner of this year's best picture at the Oscars, we are delighted to be closing the first Guildford Free Film Festival with such a prestigious film.
We will have live music from:
There will be cash bars selling beer, wine and soft drinks. While you are welcome to bring snacks, please support the hosts by not bringing your own drinks. Thank you.
Please note a change of plans- due to logistical issues, we will be showing this film INDOORS this evening, so leave your chairs and blankets at home!
As with all our events during the festival, admission is free!