Share

Friday 03rd May 2019
Mary Poppins Returns
Free
(No ticket required - First come first served)
7:30PM (Doors open 6:45PM)
INDOOR:
Rosendale Primary School – Herne Hill
Decades after her original visit, everyone's favourite magical nanny returns to help the Banks siblings and Michael's children through a difficult time in their lives.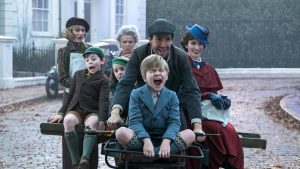 Mary Poppins makes her return in this faithful sequel set in Depression-era London. Jane and Michael, the original Banks children, are now grown up and Michael has three children of his own. As in the original, Mary Poppins makes her entrance just as the family is facing a particularly difficult period, and helps them rediscover the magic in their lives
As you'd expect, there is a brilliant supporting cast with Mary Poppins' friend Jack taking on the mantle of Bert from the original, complete with interesting accent, and Dick van Dyke making a cameo appearance at the grand age of 93. With a wonderful soundtrack and captivating animations, this is a worthy successor to the original and can be relied on to bring a tear to the eye.
See the trailer here!
All our kids' screenings this year are made possible by the generous support of Apple Tree Children's Café, Kinder La La and Sweet Carolina.
As part of this year's Herne Hill Free Film Festival we are excited to be partnering with the Maudsley Charity, to help them promote positive change in the world of mental health and to make a real difference to the treatment of mental health in our area. We will be collecting donations at each of our screenings to support their local activities, so if you can, any money that you can spare would be greatly appreciated to help this wonderful charity continue the admirable work they do.