Share

Thursday 12th September 2019
Mars Attacks!
Free
(No ticket required - First come first served)
7:30PM (Doors open From 7.00PM)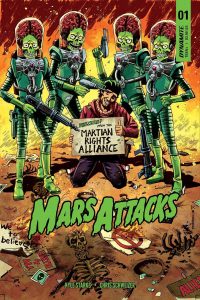 Gasp!  A fleet of Martian spacecraft surrounds the world's major cities and all of humanity waits to see if the extraterrestrial visitors have, as they claim, "come in peace." U.S. President James Dale (Jack Nicholson) receives assurance from science professor Donald Kessler (Pierce Brosnan) that the Martians' mission is a friendly one
But when a peaceful exchange ends in the total annihilation of the U.S. Congress, military men call for a full-scale nuclear retaliation.
Thrill! As Earth fights back with an unexpected weapon. Take that, Martians!
Screening will be upstairs (no disabled access).
Refreshments: American-style coffee, cookies and muffins are available to buy at the downstairs counter.