Share

Sunday 23rd April 2017
Mall Rats – (Start Time 6pm)
Free
(No ticket required - First come first served)
6:00PM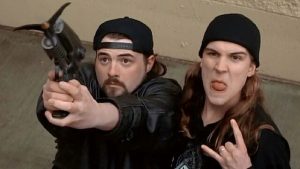 Critics called it "lowbrow slacker comedy". We say "Silent Bob! Stinkpalm! Stan Lee! Who could ask for more?"
Kevin Smith's follow-up to 'Clerks', his hugely successful no-budget
debut, flopped at the box office, but became a sleeper hit after its video release.
When Brodie and T.S. are dumped by their girlfriends, they head for their local shopping mall. They cause general havoc then hit upon a scheme to win back their lost loves with the help of Jay and Silent Bob. Featuring cameos from Stan Lee (and Ben Affleck).
Also showing: new animated short by Thomas Webster.