Share

Tuesday 01st May 2018
Loving Vincent + Q & A
Free
(No ticket required - First come first served)
8:00PM (Doors open 7:30PM)
It is with great pleasure that we are launching our 2018 Free Film Festival with the award winning animation 'Loving Vincent'.  Afterwards we have a Q&A session with the Producer Ivan Mactaggart and local Executive Producer David Parfitt.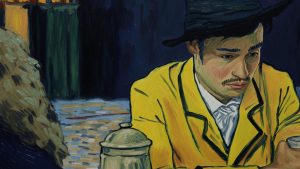 Mystery surrounds the death of Dutch master painter Vincent van Gogh in 1890 France. 'Loving Vincent' is a stunning story depicted in oil painted animation. A young man comes to the last hometown of painter Vincent van Gogh to deliver the troubled artist's final letter and ends up investigating his final days there. Starring Douglas Booth and Oscar-nominated Saoirse Ronan. Written and directed by Dorota Kobiela and Hugh Welchman. Not to be missed.
Nominated for a 2018 Academy Award Oscar, 2018 Golden Globe & 2018 European Film Academy Award for Best Animated Feature.
The world's first fully painted feature film took seven years in the making. 125 artists hand-rendered 65,000 frames of live action with oil paints on canvas, using van Gogh's own work as reference.  Come along to one of our favourite venues, The Lido Café, and ask the producers lots of questions.
Click here to see the trailer!
As part of this year's Herne Hill Free Film Festival we are excited to be partnering with the Norwood and Brixton Food Bank, helping to raise awareness for this most worthy of local causes. We will be collecting food donations and spare change at each of our screenings so, if you can, any food or money that you can spare would be greatly appreciated to help this wonderful charity continue the admirable work they do in the local area. We will be tweeting information about urgently needed items so stay tuned on Twitter to @HerneHillFilm.