Share

Friday 31st May 2019
London
Free
(No ticket required - First come first served)
8:00PM (Doors open 7:00PM)
INDOOR:
The Rotunda Hall, Cressingham Gardens
We are pleased (and also really really excited) to announce that filmmaker Patrick Keiller will be coming to our screening of London on 31 May to talk about the background to his film.  Patrick is one of the most distinctive voices in British cinema and this is an unmissable opportunity. Be there.
"London, he says, is a city under siege from a suburban government which uses homelessness, pollution, crime, and the most expensive and run down public transport system of any city in Europe as weapons against Londoners' lingering desire for the freedoms of city life."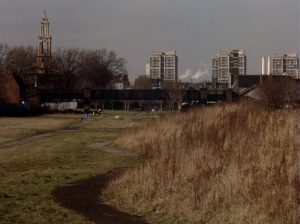 So says the unnamed narrator of this hypnagogic exploration of London, its people, its buildings, and its apparent disappearance at around the time of the 1992 General Election. Voiced by Paul Scofield the film follows the narrator as he wanders the Capital in pursuit of solutions to 'the problem of London'; confronted everywhere by a city strained-to-breaking by rampant gentrification, the ever-present threat of terrorism and an unbroken decade-and-a-half of Conservative rule.
With a cast of two completed by the unseen Robinson – whose eccentric and often extraordinary observations are a frequent highlight – London comprises a haunting patchwork of real footage of London life as it was in the last decade of the 20th Century. Made up of a series of static, lingering shots of ostensibly mundane scenes of City life, London hints at the maddening, hyper-real, and usually concealed peculiarities of urbanism and urban life; never more in need of interrogation than in this the year of the 25th anniversary of the film's original release.
This screening takes place in the Cressingham Garden Estate's rotunda in partnership with the Save Cressingham Gardens campaign, and is the penultimate event of this year's festival.
See the trailer here!

As part of this year's Herne Hill Free Film Festival we are excited to be partnering with the Maudsley Charity, to help them promote positive change in the world of mental health and to make a real difference to the treatment of mental health in our area. We will be collecting donations at each of our screenings to support their local activities, so if you can, any money that you can spare would be greatly appreciated to help this wonderful charity continue the admirable work they do.