Share

Sunday 13th May 2018
Little Shop of Horrors
Free
(No ticket required - First come first served)
8:30PM (Doors open 8:00PM)
OUTDOOR:
Brockwell Park Community Greenhouses
Bring something to sit on and whatever you need to stay warm and dry
If the story of a nerdy florist, who finds success and romance with the help of a giant man-eating plant, doesn't make you want to come to the Brockwell Park Community Greenhouses on 13 May at 8:30pm to see this mid-1980s rock musical horror comedy (a niche genre, we agree) we don't know what will. On its release Roger Ebert said it was the kind of movie that cults are made of and that it would become one of those movies that fans want to include in their lives. Well, we're including it in our festival programme; it's up to you to come down to the Brockwell Park Community Greenhouses on 13 May at 8:30pm to make it part of your life!
If the 13 May will be your first foray to this fenestrated venue, you'll find it between the Walled Garden and the tennis courts in Brockwell Park. If that means nothing to you, take a look at the venue's website or follow the lit pathway from the park's main entrance!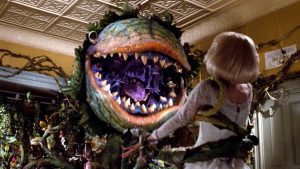 Starring Rick Moranis and Steve Martin, and featuring John Candy, Christopher Guest and Bill Murray, this adaptation of the off-Broadway success of the same name tells the story of Seymour, a colleague of his at Muchnik's Flower Shop called Audrey and a plant procured from a Chinese flower shop. Left at that, we agree the film might not appeal, but if you make Seymour's plant carnivorous, humongous and musical (and you factor in Steve Martin playing a sadistic dentist in one of the roles of his career) you can see why this has become a cult classic over its 30 year history.
Marking the pinnacle of Rick Moranis's career (yes, even after taking into account Honey, I Shrunk the Kids and its wholly original sequel Honey, I Blew Up the Baby) we are excited to be showing this botanical blockbuster in Herne Hill in 2018. So come down to the Brockwell Park Community Greenhouses on 13 May at 8:30pm for a floral film in a vegetal venue. We promise there'll be no more phytobiological puns (as you can tell, we've already run out).
Click here to see the trailer!
The film will be preceded by local filmmaker Vron Harris's continually looping short film 'Spring, Summer, Autumn, Winter' which was shot over the last year, following the passing of time within the community gardens. There's an interest in the possibility of using still images to create a sense of movement and moving images to create a sense of stillness.
BPCG will be running a botanical bar with cocktails, wine, beer and snacks.
As part of this year's Herne Hill Free Film Festival we are excited to be partnering with the Norwood and Brixton Food Bank, helping to raise awareness for this most worthy of local causes. We will be collecting food donations and spare change at each of our screenings so, if you can, any food or money that you can spare would be greatly appreciated to help this wonderful charity continue the admirable work they do in the local area. We will be tweeting information about urgently needed items so stay tuned on Twitter to @HerneHillFilm.