Share

Thursday 28th April 2016
L'Atalante
Free
(No ticket required - First come first served)
8:30PM
OUTDOOR:
APT Studios
Bring something to sit on and whatever you need to stay warm and dry
Jean Vigo's achingly romantic tale of desire and hope screened in a courtyard next to Deptford Creek.
*RAIN FORECAST – NOW INDOORS *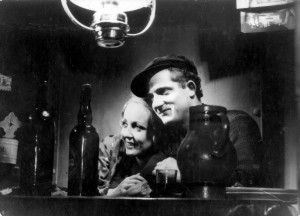 Jean , a barge captain, marries Juliette, an innocent country girl, and the two climb aboard Jean's boat, the L'Atalante—otherwise populated by an earthy first mate and a multitude of mangy cats—and embark on their new life together.
Both a surprisingly erotic idyll and a clear-eyed meditation on love, L'Atalante, Vigo's only feature-length work, is a film like no other.
Free event. (First come, first served). SEATING PROVIDED