Share

Friday 26th May 2017
La La Land
Free
(No ticket required - First come first served)
9:00PM (Doors open 7:30PM)
OUTDOOR:
Herne Hill Velodrome
Bring something to sit on and whatever you need to stay warm and dry
In early 2017 a musical was released in UK cinemas that went unnoticed, starred a cast of unknowns and had a score that can be described as moderately foot-tapping at best. We felt sorry for the studio – which has clearly lost big-time on this one – and so in a final attempt to try to get it a bit of recognition we decided to screen it at the Herne Hill Velodrome on 26 May at 9pm. It's called La La Land. Or something like that. Come along. Or don't. You might enjoy it. Or you might not.
The Herne Hill Velodrome has been on a long journey in recent years and we would love you to join us on the night to celebrate its new pavilion and newly secure future. Chapeau!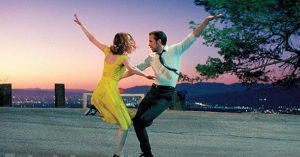 From the director of Whiplash comes La La Land, a musical romance that rushes from first love to heartache via showtunes, love songs and free jazz. With modern day Los Angeles as its backdrop the film tells the story of Mia, an aspiring actress, and Sebastian, a dedicated jazz musician, as they struggle to make ends meet while pursuing their dreams in a city known for destroying hopes and breaking hearts.
Damien Chazelle wrote the screenplay in 2010 but couldn't find a studio willing to finance the film until, following the success of Whiplash, La La Land was picked up in 2014. Since premiering at Venice in the summer of 2016 the film has grossed more than $500 million worldwide, a fair return on a $30 million investment, and in 2017 it received 14 nominations at the 89th Academy Awards (tying with All About Eve and Titanic for the most Oscar nominations ever).
The story. The music. The casting. The colour. The setting. The dancing. The nostalgia. The everything. We love it all. And we suspect you will too. So come down to the Herne Hill Velodrome on 26 May at 9pm to indulge in the biggest film of 2017 so far. You may leave the screening with a tear in your eye but you'll have a song in your heart, and you'll have had amazing free night at one of the Herne Hill Free Film Festival's most iconic venues!
Click here to see the trailer.