Share

Wednesday 20th December 2017
Krampus
Free
(No ticket required - First come first served)
8:00PM (Doors open 7:00PM)
Canopy Beer Co. hosts our final event of our Christmas free film festival with a traditional seasonal film but one which below the surface has dark forces at play. Who doesn't like to spend Christmas with their dysfunctional relatives? And why does Grandma Omi spend most of her time sitting by the fire? Max's belief in Father Christmas is shredded by his relative's behaviour, unleashing horrific unforeseen consequences.
Director Michael Docherty assembles a fine ensemble cast with outstanding performances by Toni Collette (that's right, of Muriels Wedding and Little Miss Sunshine) and the superbly delivered one liners of Conchata Ferrell.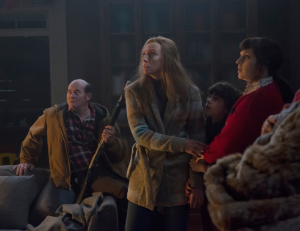 Drawing on the European traditions of the Good/Bad Santa which was the theme of the film Rare Exports, shown in our 2016 Christmas festival, Michael Docherty also admits to being influenced by the horror films of the 80s such as Gremlins and Poltergeist which drew him to the use of scary animatronics. Made by Weta Workshop based in New Zealand and with credits that include Lord of the Rings, The Hobbit and The BFG, these monsters are real and tangible, and the cast are clearly not reacting to a tennis ball on a stick. Or if they are, that's a scary tennis ball and one fierce looking stick.
So head down to Canopy Beer Co. on 20 December, grab a beer or two to help calm the nerves and enjoy the comedy and / or the horror which is Krampus!
Before you leave home we encourage you to grab some supplies or any spare change to help the Herne Hill Free Film Festival help the Norwood and Brixton Foodbank make as many happy Christmases as possible in the local area this year. The Herne Hill Free Film Festival will be tweeting information about urgently needed items so stay tuned on Twitter to @HerneHillFilm.
Click here to see the trailer!