Share

Friday 29th April 2016
Julius Caesar
Free
(No ticket required - First come first served)
3:00PM (Doors open 2.45. Lounge open from 8am)
A lavish, splendid and star-studded Hollywood adaptation of the Shakespearean tale of loyalty, betrayal, and political intrigue in ancient Rome.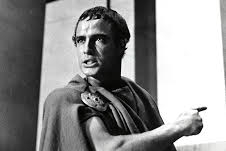 The growing ambition of Julius Caesar is a source of major concern to his close friend Brutus. Cassius persuades him to participate in his plot to assassinate Caesar but they have both sorely underestimated Mark Antony.
Brutus (James Mason), Cassius (John Gielgud), and other high-ranking Romans murder Caesar, because they believe his ambition will lead to tyranny. The people of Rome are on their side until Antony (Marlon Brando), Caesar's right-hand man, makes a moving speech. The conspirators are driven from Rome, and two armies are formed: one side following the conspirators; the other, Antony. Antony has the superior force, and surrounds Brutus and Cassius, but they kill themselves to avoid capture.

To mark the 400th anniversary of William Shakespeare's death we are screening several bard-related films. Look out for this symbol on our event pages.