Share

Thursday 28th April 2016
Spaghetti Shakespeare: Johnny Hamlet – To Kill Or Not To Kill
Free
(No ticket required - First come first served)
7:45PM
A visually stunning and exuberant retelling of Hamlet as a Spaghetti Western.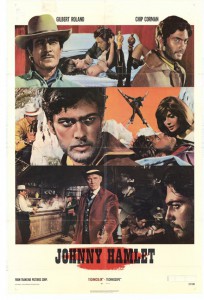 This bravura spaghetti western opens with a stunningly mystical dream sequence and proceeds to gallop through the story with all the verve and sweaty close-ups you would expect from the genre.
From the director of the original The Inglorious Bastards (1978), and A Few Dollars for Django (1966) director Enzo Castellari retells Hamlet with this visually experimental western complete with terrible dubbing, ridiculous makeup and hammy fist-fights.
Fantastic cinematography, parodic humour and a superb music score featuring a classic 60s theme song – Find The Man- reveal Castellari to be a central inspiration for Quentin Tarantino.

To mark the 400th anniversary of William Shakespeare's death we are screening several bard-related films. Look out for this symbol on our event pages.
Refreshments available. Out of the Brew provides a space for creative people to eat good food, drink good drink and host great events.