Share

Saturday 10th December 2016
It's a Wonderful Life
Free
(No ticket required - First come first served)
6:00PM
INDOOR:
All Saints Church
It may not have won any Oscars but It's a Wonderful Life is truly one of the great Christmas films. Join us at All Saints in West Dulwich (a stone's throw from the edge of SE24) on 10th December at 18:00 for one of our favourites in a new venue for the festival. We're excited, and we hope you are too.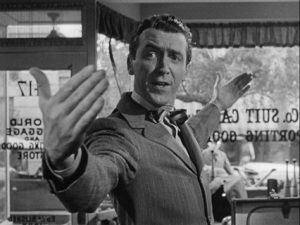 Winning none of the 5 Oscars it was nominated for in 1947, It's a Wonderful Life needs little introduction. In the 70 years since it was first screened the film has become a staple of Christmas TV schedules the world over, giving people an annual opportunity to go see Clarence Odbody earn his angels' wings by helping George Bailey understand the positive impact he has had on others' lives. It is rated by the American Film Institute as the most inspirational American film of all time, and it was #11 in their list of the 100 greatest American movies.
Many of us have seen it, and many of us have seen it more than once. But few have seen it on the big screen without those interruptions you get at home at Christmas and even fewer have had the opportunity to watch it in as grand a setting as All Saints Church in West Dulwich. We know we're the Herne Hill Free Film Festival, but for a venue as good as this we're willing to be flexible on our boundaries… We hope you forgive us and join us on Saturday 10th December for one we're all looking forward to. Bells and whistles and all.
Here's the trailer if you need reminding what the film is all about…