Share

Saturday 25th May 2019
Isle of Dogs
Free
(No ticket required - First come first served)
9:00PM (Doors open 7:30PM)
OUTDOOR:
Brockwell Park – Herne Hill
Bring something to sit on and whatever you need to stay warm and dry
In celebration of all Herne Hill hounds, we bring Wes Anderson's award winning stop-motion animated Isle of Dogs to Brockwell Park for this year's biggest outdoor screening.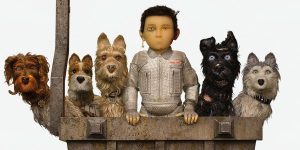 In the fictional Japanese city of Megasaki 20 years into the future, all dogs have been exiled to Trash Island following an outbreak of canine flu. We follow 12 year old Atari, the orphaned nephew of Megasaki's evil mayor, Kobayashi. Atari hijacks a plane and crash lands on Trash Island in search of his beloved guard dog Spots (voiced by Liev Schreiber) and aided by a motley crew of mutts, voiced by a star studded cast including Bill Murray (his 8th collaboration with Anderson), Scarlett Johansson, Harvey Keitel, Bryan Cranston and Yoko Ono, to name but a few, they lead us on a quirky canine crusade!
Anderson uses his signature symmetrical compositions, carefully curated colour palettes and quirky eclectic soundtrack to create a dreamy dystopian landscape for this age-old tale of the bond between human and dog. And since everyone in Herne Hill seems to own a dog these days, Brockwell Park is the pawfect location for this screening.
Your dog is welcome to watch too but please ensure you keep him / her on a lead and clear up any doggy doo-doo after. Thanks!
See the trailer here!
As part of this year's Herne Hill Free Film Festival we are excited to be partnering with the Maudsley Charity, to help them promote positive change in the world of mental health and to make a real difference to the treatment of mental health in our area. We will be collecting donations at each of our screenings to support their local activities, so if you can, any money that you can spare would be greatly appreciated to help this wonderful charity continue the admirable work they do.