Share

Sunday 27th May 2018
Instrument of Change: Street Piano + Live Music
Free
(No ticket required - First come first served)
7:00PM
OUTDOOR:
Station Square
Bring something to sit on and whatever you need to stay warm and dry
The Herne Hill Free Film Festival presents an evening in honour of our beloved street piano, with live piano music and a screening of the documentary Instrument of Change (which was inspired by and which features the aforementioned piano!), followed by Q&A.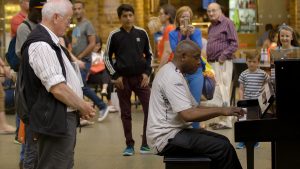 Local filmmakers Maureen Ni Fiann and Tom Rochester, noticing the incredible effect that our piano has had on our community here in Herne Hill, set about documenting the way that street pianos bond disparate people in lonely cities through fleeting moments of musical connection.
From Glasgow to London, New York to San Jose, acoustic pianos headed for landfill are being placed on our streets. Free, accessible and for anyone to play. It's not busking. It's not a gig. It's a new kind of musical platform. But why do street pianos have such universal appeal? What gives them the power to unite, to create the 'neighbourliness of strangers'?
The film stars a cast of well known pianists including Jools Holland, James Rhodes and Chas Hodges, as well as our neighbours Jay Rayner and local piano tuner extraordinaire Roy Martin. But more importantly, we get to know the random passers-by who have been drawn to the piano and have found refuge and a way to express themselves through music in what sometimes seems an anonymous and lonely city.
Instrument of Change premiered in 2017 at the South Korea Film Festival and won the Best Tactical Urbanism Film in Los Angeles. It now comes home to Herne Hill for a special one-off screening on the 27th May, preceded by live music at the piano and followed by director Q&A. Music starts at 7pm, film starts around 8.45pm (or at sun down, so you can see what's on the screen!).
Music transforms people's lives. Street pianos transform cities.
Click here to see the trailer!
As part of this year's Herne Hill Free Film Festival we are excited to be partnering with the Norwood and Brixton Food Bank, helping to raise awareness for this most worthy of local causes. We will be collecting food donations and spare change at each of our screenings so, if you can, any food or money that you can spare would be greatly appreciated to help this wonderful charity continue the admirable work they do in the local area. We will be tweeting information about urgently needed items so stay tuned on Twitter to @HerneHillFilm.