Share

Wednesday 05th April 2017
**"SOLD" OUT** Infinite / Little Pieces with Q and As
Free
(No ticket required - First come first served)
8:00PM (Doors open 7:30pm)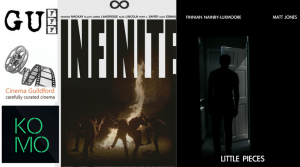 We're delighted to be opening the first Guildford Free Film Festival a day earlier than we planned with a double bill of locally produced films.
'Infinite' by LowKeyFilms:
In his last months alive a young man calls upon his four closest friends to make his existence infinite through the assembly of five key elements from his life. Infinite is the story of male friendship and the pacts we make to look out for each other.
An award winning cast and crew made up of George MacKay (Pride, Sunshine on Leith), Elliot James Langridge (Northern Soul), Alex Lincoln (Wander), Rory J Saper (Tarzan, Rufus) and Alex Esmail (Attack The Block, Northern Soul) worked with multi-Oscar winning set decorator Peter Young to bring the characters to life.
'Little Pieces' By Apple Park Films:
Shot in and around Guildford, 'Little Pieces' tells the story of Michael and Eric, two young men on a collision course with the world around them. As they race violently towards each other their world comes crashing down, changing their lives forever.
We are proud to be offering the film its Guildford debut.

---
We will have cast and production team from both films available for a Question and Answer session after each film.
Please note all tickets for this event have been claimed. Priority will be given to ticket holders until 7:50pm, after which time we will try to accommodate walk-ups.
As with all our events during the festival, admission will be free!