Share

Friday 20th May 2022
I Am Belmaya + Director Q&A
Free
(No ticket required - First come first served)
8:00PM
A story 14 years in the making, set in patriarchal Nepal, I Am Belmaya follows a remarkable young Dalit woman as she takes the camera and power into her hands to change her life.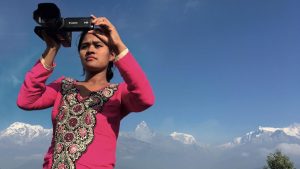 This moving and heartwarming tale, co-directed by Belmaya herself, has been wowing audiences on the indie circuit and was nominated for two British Independent Film Awards and won Best Documentary at the UK Asian Film Festival. We'll be joined by Director Sue Carpenter, Herne Hill dweller and HHFFF volunteer, for the Q&A.
As part of this year's Herne Hill Free Film Festival we are pleased to be partnering again with the Norwood and Brixton Food Bank, helping to raise awareness for this most worthy of local causes. We will be collecting food donations and spare change at each of our screenings, so if you can spare any food or money that would be greatly appreciated to help this wonderful charity continue the admirable work. We will be tweeting information about urgently needed items so stay tuned on Twitter to @HerneHillFilm.