Share

Saturday 05th May 2018
Human Flow
Free
(No ticket required - First come first served)
8:00PM (Doors open 7:30PM)
"When there is nowhere to go, nowhere is home." Refugee movements are often seen in terms of overwhelming statistics. Human Flow puts faces to numbers and tells the individual stories of some of the millions on the move.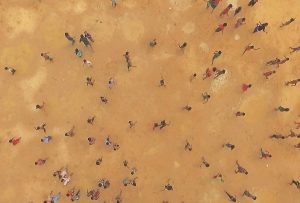 Many people will know Ai Weiwei for his visual art (including the famous hand-crafted millions of sunflower seeds which briefly closed Tate Modern in 2010 when they crumbled into clouds of dust). Others will know him as one of China's most famous living dissidents, now living in exile in Germany. A couple of years ago, on holiday with his family in Greece, he saw a small life raft, designed to hold about 25 people, bobbing in the sea with move than 100 clinging aboard. He decided to tell their story, and that of millions like them.
Captured over the course of a year, Human Flow tells the human stories of refugees in 23 countries, from Afghanistan and Iraq to Israel and Italy. It seeks to give a sense of the staggering scale of today's refugee crisis and of its profoundly personal impact.
Human Flow was a big deal when it was released last year, but it had a short run before Christmas. If you missed it then – or loved it so much that you just have to see it twice – then come and join us on 5 May at 7.30pm at Yoga Point.
Click here to see the trailer!
As part of this year's Herne Hill Free Film Festival we are excited to be partnering with the Norwood and Brixton Food Bank, helping to raise awareness for this most worthy of local causes. We will be collecting food donations and spare change at each of our screenings so, if you can, any food or money that you can spare would be greatly appreciated to help this wonderful charity continue the admirable work they do in the local area. We will be tweeting information about urgently needed items so stay tuned on Twitter to @HerneHillFilm.