Share

Monday 25th April 2016
Hamlet
Free
(No ticket required - First come first served)
6:00PM
A modern-day New York City adaptation of Shakespeare's immortal story about Hamlet's plight to avenge his father's murder.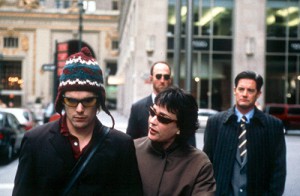 New York, 2000. A spectre in the guise of the newly-dead CEO of Denmark Corporation appears to Hamlet, tells of murder most foul, demands revenge, and identifies the killer as Claudius, the new head of Denmark, Hamlet's uncle and now step-father. Hamlet must determine if the ghost is truly his father, and if Claudius did the deed.
The city's contradictions of beauty and squalor give the movie a sense of place. New York becomes a complex character in this vital and sharply intelligent film.

To mark the 400th anniversary of William Shakespeare's death we are screening several bard-related films. Look out for this symbol on our event pages.
Plus 1917, WW1 short film by Mykea Perry.
Xanadu and '80's roller disco!
Xanadu and '80's roller disco!
April 21 @ 7:00 pm
Deptford Lounge
Join us for the first night of the NXDFFF when we'll be launching in truly retro style with big hair, slick moves and fancy footwork,…
Matilda
April 29 @ 8:30 pm
Eckington Gardens
Come and join us in the Eckington Gardens for open air family cinema, with a screening of Roald Dahl's Matilda the Musical. Matilda tells the…