Share

Saturday 19th May 2018
Get Out
Free
(No ticket required - First come first served)
9:00PM (Doors open 7:30PM)
OUTDOOR:
Brockwell Lido – Herne Hill
Bring something to sit on and whatever you need to stay warm and dry
Forget The Royal Wedding, forget The FA Cup Final and forget National Red Head Day (it's really a thing).  There's only one event to pop in your calendar on May 19th.  The outdoor screening of the Oscar winning 'Get Out' at Herne Hill's iconic Brockwell Lido.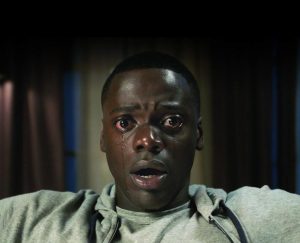 I remember the first time that I went to visit the in-laws.  They're Hungarian (I'm not), they didn't speak much English at the time and I spoke even less Hungarian.  Nervy times.  But we met and despite the language barrier, things were going swimmingly.  That was, until nature called.
"Honey!  What are you doing?  That toilet's broken!"
Words that will haunt me forever, as shall the moments that shortly followed featuring my father-in-law and a toilet brush.  But anyway, what's my point?  Well my point is that things could've been a helluva lot worse.
Take Chris (Daniel Kaluuya) for example.  A young African American fella who's introduced to his girlfriend, Allison's (Rose Armitage) white, middle-class liberal family in the film Get Out.  Things start off at level cringe, with phrases such as "Yo!  My Man!" and "I loved Obama!" ringing in our ears.  Then, gradually, things go from level-cringe to level-horror and we realise that we're witnessing the stuff of nightmares.  Think 'Meet the Parents' meets The Stepford Wives with a dash of Deliverance and you won't be a million miles off.
Part social satire, part dark comedy, part thriller, part horror.  Jordan Peele's thought provoking directorial debut will leave you reeling.  See you at The Lido.
Click here to see the trailer!
This screening will be subtitled!
As part of this year's Herne Hill Free Film Festival we are excited to be partnering with the Norwood and Brixton Food Bank, helping to raise awareness for this most worthy of local causes. We will be collecting food donations and spare change at each of our screenings so, if you can, any food or money that you can spare would be greatly appreciated to help this wonderful charity continue the admirable work they do in the local area. We will be tweeting information about urgently needed items so stay tuned on Twitter to @HerneHillFilm.