Share

Sunday 03rd September 2017
Flicker + Pulse
Free
(No ticket required - First come first served)
8:00PM (Doors open 7.30PM)
OUTDOOR:
Glengall Wharf Garden
Bring something to sit on and whatever you need to stay warm and dry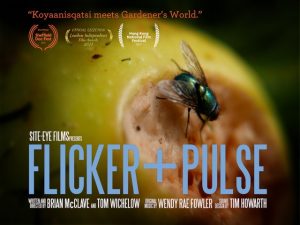 Flicker + Pulse outdoor film screening in Glengall Wharf Garden, 8pm followed by a Q&A with the two Directors, Brian McClave and Tom Wichelow.
THIS EVENT IS STILL TAKING PLACE AT THE GARDEN BUT DUE TO THE WEATHER FORECAST IT WILL BE MOVED INDOORS.
Flicker + Pulse is a striking and poignant portrayal of time passing in a beautiful Sussex walled garden. Using real-time and time-lapse footage, the film explores the relationship between the seasons and the plants, and people who work within the walls of the garden. Locked into the clock of the solar system, the garden performs its annual display, guided by the ritualistic human intervention of those passionately engaged with its soil.
The film takes the form of a contemplative visual poem with a stunning soundtrack by Wendy Rae Fowler, and could be described as the meeting point between Gardeners' World and Koyaanisqatsi.
Flicker + Pulse is a celebration of flickering (in terms of time-lapse photography) and pulsing (in terms of the mechanics of time passing) and therefore may not be suitable for those affected by flashing lights.
ABOUT THE VENUE:
Glengall Wharf Garden is a large community garden with a wide range of spaces including raised beds, ponds, forest gardens and lots of wild planting. A central area hosts events and there are facilities for growing under cover, beekeeping, chickens and more.