Share

Saturday 07th December 2019
Films for Food Screening: Citizen Jane 'Battle for the City'
Free
(No ticket required - First come first served)
7:00PM (Doors open 6.30PM)
INDOOR:
The Green Community Centre, Nunhead Green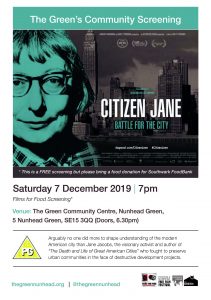 Films for Food Screening: Citizen Jane 'Battle for the City' – Saturday 7 December 7pm (doors 6.30pm) at The Green Nunhead
This is a FREE screening in partnership with #PNFFF, Nunhead's Voice and The Rainbow Collective, but please bring a donation for Southwark Food Bank.
Jane Jacobs, author of "The Death and Life of Great American Cities," helped change the way we look at urban living. The recent documentary "Citizen Jane" focuses on Jacobs' most consequential battle in the 1960s: when she went up against New York City's ruthless power broker, Robert Moses–and won.