Share

Saturday 09th December 2017
Festive Family Shorts
Free
(No ticket required - First come first served)
1:00PM
INDOOR:
Judith Kerr Primary School
Come along to Judith Kerr's annual German Christmas market between 1pm and 4pm, and once you've picked up a pretzel, mustardised that bratwurst and filled your stein with gluwein head indoors for some warmth and a selection of family friendly Christmas short films.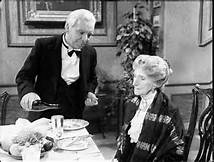 We are adopting the same procedure as last year (you'll get that hilarious joke if you made it to the same event in 2016) with rolling screenings throughout the afternoon of 'Dinner for One' and a selection of other short films for all the family.
If you've never seen it before 'Dinner for One' is a single take black and white slapstick comedy sketch starring British comedian Freddie Frinton, which is traditionally shown in Germany and across Scandinavia during the Christmas period. Made in 1963, and courtesy of this continental tradition, it is now the most repeated TV programme of all time ever. Yes, of all time ever. And its catchphrase 'Same Procedure as Every Year' has entered everyday vocabulary in Germany in the same way as the best lines from Monty Python have here in the UK. Some of our volunteers had never seen this before last year and it's reeled them in; the film's catchphrase is one of the most frequently used among the festival's helpers!
Before you leave home we encourage you to grab some supplies or any spare change to help the Herne Hill Free Film Festival help the Norwood and Brixton Foodbank make as many happy Christmases as possible in the local area this year. The Herne Hill Free Film Festival will be tweeting information about urgently needed items so stay tuned on Twitter to @HerneHillFilm.