Share

Monday 25th April 2016
Faster Pussycat! Kill Kill! + live punk bands
Free
(No ticket required - First come first served)
7:00PM
Go-Go for a wild ride with the Action Girls in Russ Meyer's cult favourite.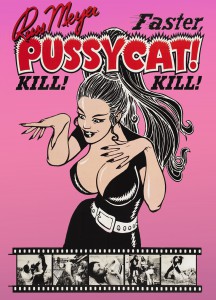 Three top heavy sadistic go-go dancers holding a young girl hostage come across an old man living with his two sons in the desert. After learning he's hiding a sum of cash, the women start scheming against him.
Of all Meyer's early films, Faster, Pussycat has found the widest audience. It's frenetic style of quick-cutting, exuberant action, pop and comic-book imagery, and dialogue that seems phoned in from another universe shows Meyer to be a fine action director as well as America's best-known tit man.
Plus live music supplied by wonderful punk bands RASH DECISIONS // BKS // GURGLE [PUNK ROCK]