Share

Tuesday 08th March 2016
Fan Popo documentaries
Free
(No ticket required - First come first served)
7:00PM
INDOOR:
Room B104, Brunei Building – SOAS
Mama Rainbow and New Beijing, New Marriage by Fan Popo – queer filmmaker, writer, and activist from mainland China.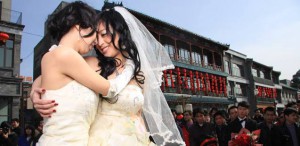 The director is happy to answer any questions about queer activism in China and his work as a documentary maker. Send questions in advance to Tessa at 583120@soas.ac.uk. He has also kindly agreed to give his email to audience members who have any questions after the screening.
Mama Rainbow (28 mins, Mandarin with English subtitles). For Chinese parents, finding out that their kid is gay usually presents a major tragedy, with the majority unable to accept the homosexuality of their son or daughter.
New Beijing, New Marriage (18 mins, Mandarin with English subtitles). On 14 February 2009, Valentine's Day, Qianmen Street in Beijing, a busy, renovated shopping and tourist spot, with its century-old old architecture, witnessed a gay couple and a lesbian couple who chose to have their wedding photos taken on this street. Would they understand what was going on?
Fan Popo's documentary films include the Chinese Closet; Taipei, City of Rainbows; and Be A Woman. Former director of the Beijing LGBT Center, he is the author of Happy Together: 100 Queer Films, China's first anthology of international LGBT cinema.