Share

Thursday 03rd May 2018
Election + short film The Jossers
Free
(No ticket required - First come first served)
7:30PM
Reading Writing Revenge – Celebrate election night in Deptford with this satirical, black comedy-drama.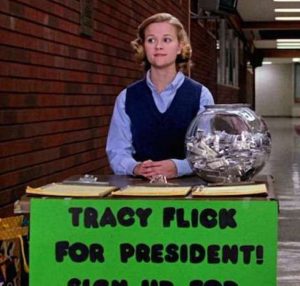 Tracey Flick (Reese Witherspoon) is running unopposed for the high school presidency but school civics teacher Jim McAllister (Matthew Broderick) has a different plan.
His life spirals out of control as he tries to stop the ambitious, manipulative, obsessive over-achiever Tracey from winning the high school election.
Event will start with short film The Jossers (15 mins), Gareth Brierley, 2016, UK. Sidelined in the wings of a theatre in the back streets of Amsterdam, four old men try to save their dying cabaret act.
Doors open 

7pm.

 Films start at 

7.30pm.